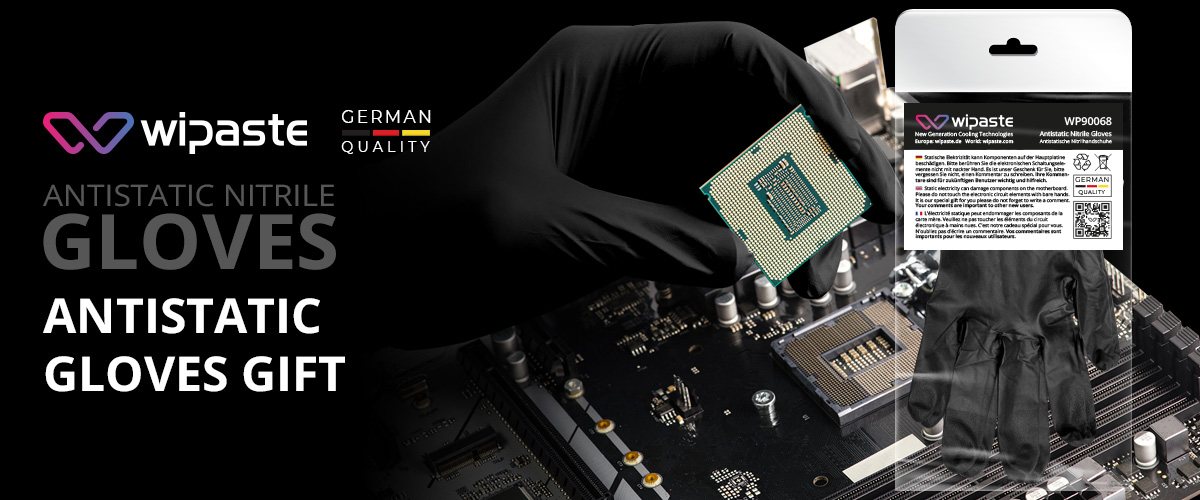 Antistatic protective gloves prevent the electric components on the motherboard from being damaged by static electricity. During the thermal paste replacement process, you should definitely use your antistatic nitrile glove, which is given as a gift with the product.

Wipaste C2 thermal paste is a specially developed compound to provide high thermal conductivity. It contains nano-sized carbon particles.
It provides high stability and superior performance for air or water cooled PC-systems. It is suitable for use on CPU, GPU and many other microchips. In overclocking applications, it successfully transfers the high heat from the processor to the Wipaste C2 Thermal Paste.





High Performance
Applications e.g. Gaming that requires a lot of processor power increases the heat on the CPU processor. Wipaste C2 thermal paste effectively reduces that heat on the CPU processor with 6 W/m-K thermal conductivity. Thanks to Wipaste's high thermal conductivity, the heat on the processor is successfully transferred to the Wipaste Thermal Paste. Thus, the heat and stress caused by the heat on the processor are reduced.





Nano Carbon Formula with High Thermal Conductivity
Wipaste C2 contains carbon elements obtained in nano size. The nano-sized carbon element shows extremely low thermal resistance, high thermal conductivity and provides lower CPU temperatures compared to traditional thermal pastes. The unwanted heat on the CPU and GPU is transferred instantly, allowing the processor to operate at minimum heat levels and full capacity.





Easy to Use
Wipaste is very easy to use thanks to its stable viscosity. You can achieve an even distribution effectively with a single drop on the processor CPU/GPU. You can find the effective usage methods on the user manual provided with the product or on our Website.





Maximum Security
Wipaste thermal paste does not contain any metal particles and do not conduct electricity. By using Wipaste, you will prevent short circuit failures and hardware damages. It can be used safely for all types of cooler.





Long Term Durability
Wipaste offers long-term durability in usage and storage conditions. You can safely store it at room temperature for 2 years. It provides excellent stability for 6 years in applications over CPU and GPU.


Package Included
4gr Syringe Thermal Paste
User Guide
1 Pcs Scraper